What does surf life balance mean?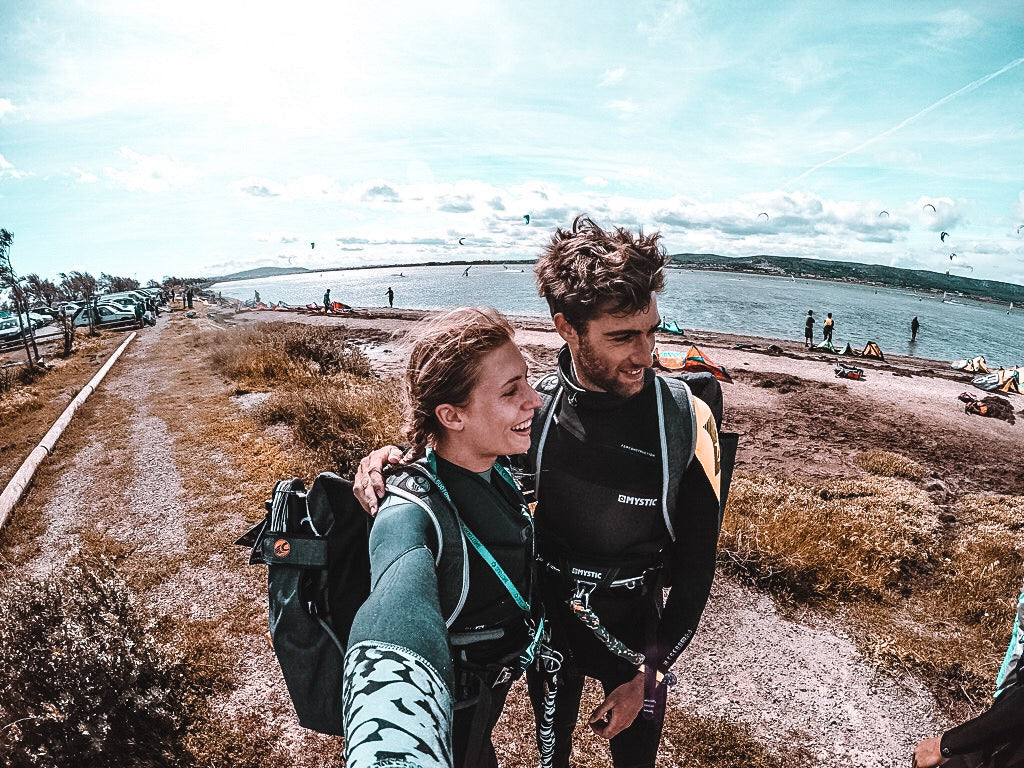 AND DOESN'T THAT ACTUALLY MEAN WORK-LIFE BALANCE?!
In principle, of course. The well-balanced work-life balance for employees as the desired goal of the companies of tomorrow.
Admittedly, the surf-life balance is a bit decadent because it simply takes the work out of the work-life balance. Of course, with the surflifebalance we don't want to keep you from the seriousness of life, but rather sweeten the fun and beautiful time that you should always take.
KITESURFING IS OUR PASSION
We like to spend our free time with kite surfing. We were so fascinated by this sport that we both wanted to integrate kiting into everyday life. Because surfing is much more than just a sport, we want to spread this attitude towards life. In order to explain exactly how surflifebalance came about, I must first introduce ourselves.
WHO ARE THE FOUNDERS OF SURFLIFEBALANCE?
We, that's Alex and I - Celine, a young couple who are enthusiastic about kitesurfing and who are now starting their own business with their lifelong dream. The desire to have our own company has been growing in both of us for several years. Alex therefore decided to train as a wholesale and foreign trade clerk in a kite company in order to learn all business tasks in theory and practice and I am currently writing my bachelor thesis in International Business Studies. I didn't choose this course at the time either because I was completely undecided, as many business graduates say, but with the firm goal of becoming self-employed and at least learning the theoretical basics.
ALEX
Alex Schmidt is a thoroughbred kiter. He knows everything about our beloved flying 'kites' and has spent countless hours on the water in his life. Whether on land, in a buggy or on a board - he trained his kite skills everywhere and tested the different models. Just like other guys worked on their cars, Alex tuned his kites and learned how to repair them. His year as a kite instructor in Greece after high school trained his skills and improved his knowledge of the flight characteristics and theories of kite sport. He took part in national and international kitesurfing competitions and has therefore dedicated his life to kitesurfing. He has always passed on tips and tricks at the kite spot and people have been buying umbrellas, boards and bars from him since he was 16 because he was able to advise them perfectly.
CELINE
I'm Celine and I did my first kite course 5 years ago and I've been really addicted to it ever since. Although I was absolutely not a classic water rat before, let alone a surfer girl, I fundamentally changed my attitude and my visions after the first 50 meters. Suddenly I had found a sport that completely fulfilled me and made me happy and, on top of that, legitimized that I could go to numerous great spots and go on 'holidays', because after all I had to go kiting again. As a resident of the inland, I didn't have the great kite locations around the corner and therefore had to find ways to get on the board from southern Germany. On the one hand, I got my VDWS kite instructor license so that I could work as a kite instructor from time to time and learn even more about the sport and pass on my knowledge. On the other hand, I moved my semester abroad to the sea. On this blog I will tell you where that took place and how I manage to spend time by the water inexpensively despite my normal everyday life in southern Germany.
SURFLIFEBALANCE The perfect surf life balance is what we strive for and sometimes already live very well. We will therefore take you with us on our way and show you how you can integrate them into your life.
That's why we want to give you answers, suggestions, tips and tricks about surfing life with everything that goes with the blog . From trips with the Bulli to events and great surfing spots and locations.
We would also like to take you on our journey to self-employment and share our ideas with you. Because what we want to build is more than just an online presence. We want to become a community. We want to get to know you. We want to meet you on the beach. We want to answer your questions. We would like to show you which products we use to make our surflifebalance possible.
We would like to remind our readers to always make sure there are times in everyday life when you can take a deep breath, put your cell phone aside and enjoy the moment. In our opinion, this works best on the water. This is truly pure adrenaline pumping meditation. But even if you don't have the sea on your doorstep, you can bring this special surfer and traveler spirit into your everyday life with little means.
Or when was the last time you just drove off and ate your breakfast on a blanket on a tree trunk in the forest or in a meadow? N / A? It's these small actions in life that help you switch off and feel incredibly good. Alex and I travel an incredible amount in our Bulli through the area, so it often happens that we simply stop in beautiful places and take care of the food intake there. This should probably get its own blog post, but I think our approach becomes clear 🙂
THE FUTURE MUSIC OF SURF LIFE BALANCE
We are still at the very beginning and would like to grow together with you and your suggestions. This page is still under construction and further development. Because it is better to start imperfectly than to wait forever
We are both licensed kitesurfing instructors and occasionally offer courses. We also do kite camps with the right people. At the kite camps there is 'supervised kiting' and lots of material to test. We also created a private label called SLICE under which we design and sell beautiful products over time. We already have great kiteboarding fins, a Surfer Wave necklace and shirts. And psst: a slice board is already in the starting blocks. With the Ponchinofamily we have created our own super cool bamboo ponchos in colorful designs. Convince yourself of the surf ponchos at events and trade fairs where we are represented. You can be curious about our ideas that we still have in store for you 😉 Everything always true to the saying: surflifebalance. Cool, hip, crazy, young, but also sustainable and when it matters serious - always in the right balance.
WE WOULD BE INCREDIBLY PLEASED IF YOU WOULD ACCOMPANY US ON THE WAY.
Please follow us on our social media channels, such as Facebook and Instagram , so you don't miss anything.
HANG LOOSE, ALEX AND CELINE
Reviews (1 comment)
Collection 2019
Sale 70% Off
Title for image